THE MANAGEMENT TEAM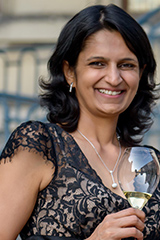 Suganya SUBRAMANIAN – General Manager
Suganya is responsible for managing all aspects of Eighty-two's business. She brings several years of senior level management and strategy experience from HSBC and Barclays in the UK. She has also served as a consultant with Deloitte & Touché in Financial Risk Analytics in the USA. Suganya holds an MBA from London Business School (2011) and a Masters degree in Management Systems from the University of Illinois.  Having chosen to switch careers from Banking to follow her passion for wine, over the past couple of years, she has developed a wide and deep knowledge of wine and is currently pursuing the WSET Level 4 Diploma.
THE EXPERT NETWORK
82 has developed a global expert network of fine wine professionals (Masters of Wine, Sommeliers) to provide in-depth expertise to its clients. The expert network will:
• Provide specialist support and guidance to the advisory services
• Bring insights to the bespoke cellar reports prepared for private clients
• Participate in fine wine events organised around the world.