Winemakers fear that the relaxation of laws requiring authorisation for new vine plantings in France may cause a glut of low-quality French wine and jeopardise the long-standing Appellation d'Origine Contrôlée system. The simultaneous introduction of a new, non-geographically specific appellation, Vins Sans Indication Geographique (VSIG) has only intensified these worries.
The death of Jean-Louis Foucault, known as Charly, has saddened the wine community of the Loire and beyond. With his brother Nady, Charly was the owner of Clos Rougeard in Saumur, and the two were pioneers of organic viticulture; they are also the eighth generation to run the estate, one of the most respected wineries in the Loire Valley.
'Saint Amour' is being billed as the French 'Sideways': two men, this time a father and son, take time out to drink their way through wine country, although in this case the winelands they choose are French. Belgian actor Benoît Poelvoorde plays the son; Depardieu, famously wine-loving (and the owner or co-owner of several French vineyards, despite having taken Russian citizenship in 2013), plays the father.
The record-breaking pre-Christmas heatwave in South Australia led to such an early harvest that the 2016 vintage narrowly escaped being picked at the end of 2015. As the world continues to get warmer, this may present an increasing problem for Southern Hemisphere winemakers attempting to do justice to their grapes, while also picking in the year they are declaring as the vintage.
Anne Kriebehl MW has written of her hope that 2016 will mark the end of the champagne flute. Experts including winemakers, glassware purveyors and Masters of Wine are shunning the traditional champagne flute in favour of white wine glasses that are better able to allow aromas and taste full expression.
Drink the Menu: Restaurants with Great Wine Lists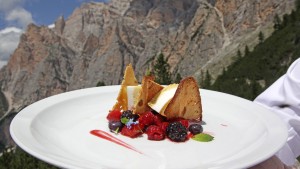 St Hubertus, San Cassiano
Up in the Italian Alps, in the beautiful Rosa Alpina hotel, run by the same family since 1850, legendary chef Norbert Niederkofler uses the mountain produce on his doorstep to play havoc with tradition. Niederkofler hasn't earned his two Michelin stars by playing safe, but whether he is pairing foie gras creme brûlée with grey cheese gelato or suckling pig's head with cucumber and flowers, the results are amazing– and sommelier Christian Rainer is adept at plundering the restaurant's extensive cellars for wines that will enrich and enhance these exhilaratingly crazy dishes.
---
---