The Bordeaux harvest is entirely in, and while it's still early to pronounce, the outlook is distinctly sunny: the red grapes have weathered the week of late September rain that made wine lovers fear for the vintage. It won't be the vintage of the century – but it does follow the Rule of Five that has held, for the last 30 years, that every vintage ending in a 0 or a 5 is worthy of attention.
In northern Burgundy, the bad weather came earlier: hailstorms at the very start of September meant Chablis winemakers lost fruit, but even those worst hit are unfazed: the grapes that remain are good, they say, the acidity excellent, and this should be a first-rate Chablis vintage.
In northern Portugal, meanwhile, there was no hail – but there was the tail-end of Cyclone Henry, hardly a development likely to enchant winemakers. However, picking was only halted on two days by the rain and here, too, the consensus is that the vintage is excellent, and that humans have, once again, triumphed over nature.
The last quarter of the 19th century was a hard time to be a winemaker, with few great years, several bad ones and phylloxera still ravaging the vineyards and the industry. The year 1895 was good but not great; nonetheless, a bottle of Lafite Rothschild 1895 has sold for $17,000 (£11,250) – a record, but one unlikely to remain unbroken as already rare 19th-century bottles become rarer still.
From the very old to the spanking new: in Italy, Supertuscan producer Ornellaia has released its first premium white, a blend of Sauvignon Blanc and Viogner that is their attempt to prove that Bolgheri DOC, world-renowned for its reds, can make great white wines, too.
Across the Atlantic, there are new developments of a different kind. St Helena's much-loved Tra Vigne restaurant is closing, but Napa Valley has a host of exciting new fine dining options, including a three-Michelin-starred team stepping into Tra Vigne's shoes, and – as befits such a prestigious wine region – all of them are as keen to showcase great wines (whether American or European) as superb food.
Drink the Menu: Restaurants with Great Wine Lists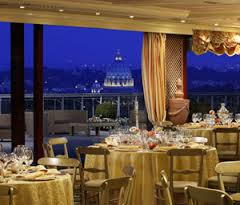 La Pergola, Rome: This three-Michelin-starred restaurant, Rome's only such, is at the top of the five-star Cavalieri Hotel – and the Cavalieri is atop Monte Mario, the tallest of Rome's seven hills, and therefore the one commanding the best views. If you can tear your eyes from St Peter's, the spectacular menu takes as full advantage of the area's many attributes – culinary, this time. The wine list, meanwhile, has even more gems than the city: 60,000 premium bottles, a sight guaranteed to revive the most jaded tourist.
---