Bordelais winemakers will be whistling while they work as they bring in what looks to be the best harvest since 2010. There is still a bit of uncertainty with the red grapes, which are still on the vines and will be for a few more weeks, but the whites are looking marvelous. Olivier Bernard of Domaine de Chevalier and president of the Union des Grands Cru says he hasn't seen such an early, even véraison since 2009; "We are quietly confident" he writes exuberantly on Jancis Robinson's website, that "this will be a great year!!!"
 Not to be outdone, Prosecco – which suffered this year from a perceived shortage, inspiring UK fans to panic buying – has also announced a superb 2015 harvest. The Italian fizz has been increasing its profile and popularity rapidly over the last couple of years, and this news can only help that upward trend to continue.
"I have been very consistent in my palate and one of the strengths in my career is that I have been very consistent… I know what I'm looking for and I've stuck to that very strictly over 37 years," says the legendary wine critic, in an interview with The Drinks Business magazine. Parker has stepped back from active wine criticism in recent years, even quitting his much-loved Bordeaux en primeur beat this year. But he is still vastly influential – and unafraid, as this interview demonstrates, of telling it as it is.
Ratafia de Champagne is an underrated little beverage in a region famous for sparkling wine – but that may be changing. For the first time, this grape-based spirit produced in Champagne for over eight centuries has been awarded Protected Geographical Indication (PGI) status.
And across the Atlantic in California, the news is also good. Despite an early harvest – perhaps the earliest in history – brought on by the four-year drought, the outlook is promising: some vintners reckon that the quality of the wines, particularly the famous Napa Valley Cabernet Sauvignons, may actually benefit from the grapes' early arrival in the winery,
Drink the Menu: Restaurants with great wine lists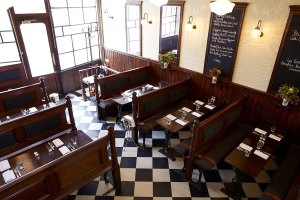 The Quality Chop House, London: If you want to run a great website with a superb and eclectic list of fine wines, it helps to have the Financial Times's restaurant reviewer and wine correspondent as your parents. Will Lander, son of Nick Lander and Jancis Robinson, has partnered with Josie Stead, late of Heston Blumenthal's Dinner, to take over this former workingmen's cafe, with its listed pew seats and great location beside Exmouth Market. So successful have their unusual wine lists (with impressive selections by the glass) and delicious food been that the couple have recently opened a second venture, Portland, slightly further west in Fitzrovia.
---