The vinous equivalent of the old saying about gentlemen preferring blondes but marrying brunettes may be everyone talking about Bordeaux but spending their fortunes on Burgundy. Not only has Jayer's Richebourg grand cru overtaken Domaine de la Romanée-Conti to become the world's most expensive wine on Wine-Searcher's annual "World's Top 50 Most Expensive Wines" list but 39 of the other listed wines were also Burgundies, with only two Bordeaux included.
Still, the Bordelais need not worry too much: there is still phenomenal interest in the best of their wines, and there may be additions to that roster once this year's harvest is bottled. According to Jancis Robinson MW, winemakers are pleased at a promising outlook for 2015, even if the lack of rain has wrinkled a few brows.
The dry early summer is a phenomenon across Europe, and opinions are divided as to whether it will turn out to be a blessing or a curse. In northern Europe, the July heatwave has winemakers likening 2015 to the famously scorching 2003 – and bringing forward provisional harvest dates accordingly.
Further afield, in another very dry part of the universe, the Californians are getting ready to raise a glass to the 2013 Cabernet Sauvignons. While 2012 was much lauded and did very well at auction, 2013 California Cabernet Sauvignon is tipped to be even better.
And in South Africa, there's discussion as to whether Swartland, the hot new area in South African wine – so hyped that tickets to the Swartland Revolution festival sold out instantly – is actually producing better wines than the much better-known Stellenbosch region, which was making wine long before anyone on the Western Cape thought about grapes. Is newer necessarily better? It may have to get a little older before we find out.
Drink the menu: Restaurants with great wine lists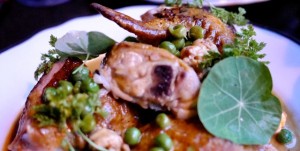 Joe Beef, Montreal: Named not for a side of cow but for a bloke in the 19th century who was good at feeding and watering the local down-and-outs, Joe Beef the restaurant has both a menu and a clientele that's considerably classier than its namesake's. And, fittingly for a place located in Little Burgundy, the wine list is both superlative and unpretentious – and the waiters will glide you through it with panache, expounding on areas and vintages when required but also unafraid to suggest a shot or a glass of craft beer if that's what the food demands.
---