The chatter swirling around this year's Bordeaux en primeur releases was, if it's possible, even more about price than usual: much of it focussed on the need for new releases to discount, possibly as much as 25%, on the current market price of vintages such as 2008 or 2006, if the wines are to sell. Some have done so; others, riding high on generous scores from the most influential critics, have chosen not to. Montrose, the last release, was one of the latter; the proof, as they say, will be in the pudding…
And price is a hot topic in Burgundy, too, as figures show that the amount a Grand Cru vineyard can command, on the rare occasion that an owner chooses to sell, is still rising: a single hectare now costs, on average, €4.35million. This makes it even less likely that the winemakers who said in a Decanter survey that this was their dream region in which to make wine – which was most of them – will ever get to live that dream.
In Hong Kong, money is talking, loudly and forcefully, as the world's top auction houses battle it out publicly for wine buyers. In the last few days, four of the best-known houses, including Christie's and Sotheby's, have put rare bottles under the hammer.
Still, it isn't just Henri Jayer Nuits St Georges 1991 and other such pearls that count as rare at the moment. Britain, the largest export market for Prosecco, is humming with talk of a shortage, thanks to a bad harvest in 2014; 15,000 bottles have also been recalled by the UK cooperative wine retailer The Wine Society due to several explosions in customers' homes. Whether this blast of bad PR will improve sales of Champagne or, more likely, Cava, or simply turn out to be a storm in a Prosecco flute, remains to be seen.
In Napa, meanwhile, the push towards more refined and elegant wines continues – and several winemakers from Bordeaux are leading the charge. Renowned UK wine critic Jancis Robinson MW tracks the First Growth influences in the valley.
Drink the Menu: Restaurants with great winelists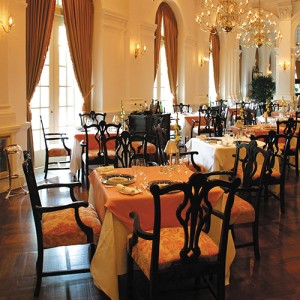 The Raffles Grill, Singapore: Raffles Hotel is over 100 years old and a byword for a dream of colonial comfort that may never have actually existed in the Empire – there is nothing fusty or stodgy about this beautiful place, and that includes its top-end restaurant, the Raffles Grill. A calm and lovely space between the famous Writers' Bar and the residents-only courtyards, which are visible through elegant arched French windows, the grill is certainly not a grill: it's a French restaurant, with Asian touches, and an incredible wine list of 15,000 bottles curated by Wine Director Stéphane Soret, whose fine palate and interest in the unusual won his restaurant Wine Spectator's influential Best of Award of Excellence last year.
---