The châteaux doors have creaked open, the world's wine buyers and press have tasted hundreds of young Bordeaux wines from the 2014 vintage, and the doors have duly clanged shut behind them again, as the Bordelais get back to the business at hand: making some of the world's greatest wines. And the verdict? This was a good year, in Sauternes in particular. Whites are looking promising, reds are garnering adjectives such as 'fresh' and 'delicate'. The cabernet sauvignon did well but it's the cabernet franc that really shines, according to several winemakers, meaning lovely aromatics although the wines may not be long players. It was an unusual vintage, according to Gavin Quinney, with a wet, mild winter and largely damp summer rescued by a bright and sunny September that lasted into October, allowing the grapes to ripen, although mid-October rain came a little earlier than the Bordelais would ideally have liked.
As every year, there are questions around how accurately one can gauge unfinished wines, some of which are still going through malolactic fermentation, and rumours of foul play, such as a barrel prepared especially for Robert Parker and adjusted to his tastes. But if that were ever true – and it seems highly unlikely – it will be no longer: for the first year in decades, Parker has chosen not to attend the en primeur tastings, handing over to his Wine Advocate colleague Neal Martin.
Bordeaux is far from being the only place to celebrate elegance and finesse in its wines at present: the Californians are becoming increasingly preoccupied with terroir, as became apparent in the specially made wines that featured at the recent Premiere Napa Valley PNV trade auction, which raised a record-breaking $6 million.
That's the good news – but on a sadder note, the great Burgundian winemaker and biodynamic pioneer Anne-Claude Leflaive has died at just 59. Tributes poured in to her native Puligny-Montrachet, where her innovative techniques and intense dedication over 20 years have made the Domaine Leflaive name one of the most recognisable and respected in the region. She will be much missed.
Drink the Menu: Restaurants with great winelists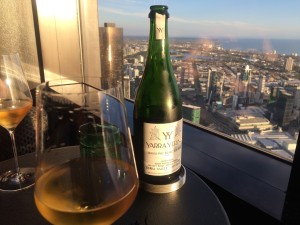 Vue de Monde, Melbourne: With a view like this, the food and wine list should be terrible: Shannon Bennett's acclaimed restaurant in Melbourne is up on the 55th floor of the Rialto and has wonderful views of the port in one direction and the centre of Melbourne in the other. Instead, it's an amazing experience, with creative use made of rocks – often hot, like the one that bakes the flatbread as you watch – and an exceptional wine list full of the very top Australian labels as well as the kind of Bordeaux, Burgundies and Italian legends any travelling European expects from a restaurant of this calibre. Australia has Hats instead of Michelin stars; Vue de Monde has the full trio.
---