There is never a bad time to drink Champagne – particularly if you own vineyards within the appellation. At the recent auction for La Paulée de New York, a rare vertical of Krug Clos du Mesnil 1979-2003 sold for US$81,550, surely a figure worth celebrating with a bottle or two, while the upcoming Sotheby's Hong Kong sale will feature over 1,000 bottles of Champagne including 341 bottles and 46 magnums of Krug ranging from 1979 to 1996, and just under 400 bottles of Dom Pérignon plus a few magnums. No matter how many competitors bubble up around the world – and the latest news is the UK's push for a 'Sussex' appellation – the original sparkling wine has lost none of its fizz when it comes to investment potential.
As befits an auction that's been imported from Burgundy, the best performance was by a Dujac a Jeroboam of Clos de la Roche Dujac 1998 which sold for US$5,145 – but France isn't the only place producing wines of record-breaking value. In California, the Premiere Napa Valley Sale of rare blends topped $6 million, the best result the sale, which benefits Napa Valley Vintners, has seen yet.
A little further north, a very different style of wine was celebrating another kind of landmark: 2015 marks the 50th anniversary of the first pinot noir grapes planted in Willamette Valley, Oregon, by David Lett – a young man who two years before had been distracted from dentistry school by the siren call of Californian vines. With a few other pioneers, including Dick Erath, Susan Sokol Blosser and her husband Bill, David Adelsheim, and Chuck Coury, Lett created a wine-growing region – with one of the world's best-loved but most finicky grapes – now considered one of America's finest.
From the almost new to the extremely old: in Hungary, the government and the EU are investing €330 million in the Tokaji region which, despite having the distinction of being the world's oldest classified wine region, designated in the 1700s for the delicious sweet wines known as Tokaji aszú, is somewhat under-appreciated. These days, there are dry reds and whites as well as the renowned dessert wines – and all of them in need of some thorough research and a brand refresh.
One brand that needs no refreshment is Coravin, the wine access tool that has won the loyalty of both the trade and the drinking public. The company has appointed a new CEO, former Nespresso executive Frédéric Levy, to help further its plans for world domination. And if its success on the home front is anything to go by, the Coravin system may soon be nearly as ubiquitous as Champagne.
Drink the Menu: Restaurants with great winelists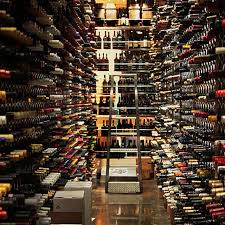 Monvinic, Barcelona: With its fabulous combination of beach, culture, history, and sunshine, Barcelona has never lacked for much – but it was decidedly short of good wine lists before Monvinic opened in 2008. This ultra-modern restaurant has oak-lined bookshelves, sliding glass doors – and individual tablets on which you can flick through the 1,000 labels a year bought in by head sommelier Isabelle Brunet and her team, from local obscurities to international rarities, all accompanied by terrific local food.
---